I have worked out of several high-end spas in the Cleveland, Ohio area and I also know other therapists who work or have worked at area spas, and it is my opinion that most women who are pregnant should NOT get massage at spas.
Spas are okay for general massage and especially when you are going to the spa with a group of friends and you want to get your nails, hair and other services along with a massage.  However, if you are pregnant, you really should find a competent massage therapist who offers pregnancy massage away from the spa setting.  If the person specializes in pregnancy massage, does a lot of it, and is certified that is even better.
The Vast Majority of Spas Hire Newbies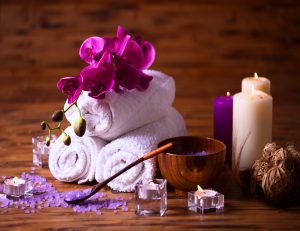 Don't get me wrong – I love the spa setting and in fact a lot of what I do in my own practice has its roots in spa-ness.  But, when we were in massage school, several of our instructors told us that spas tend to be massage mills.  The vast majority of them, especially in the Cleveland area, purposely utilize massage therapists who are just out of school and make then do a ton of massages for very little pay.  The reason the spas want newbies is because they are so eager to learn and get paid for massage that they will settle for pay between $9-$15 per session just to have a job.  Our area's largest and most plush spa, pays its therapists $9 an hour plus tips and has then doing 10-12 massages in a day which is ridiculous.
How do I know?  Because I interviewed with them and they offered me a job there before I decided to work for Marengo Spa in the Hyatt Hotel in downtown Cleveland instead…
Seasoned Therapists Move On to Greener Pastures
This is not to say that there are not seasoned therapists working in spas.  There are a FEW.  It is not the norm though. Why?  Because seasoned therapists will quickly realize that they are worth much more and quickly move on to greener pastures.  Either they will find a business that will pay them more or they will open up their own massage practice.
A Lack of Training
Aside from the fact that spas tend to hire a lot of newbies is the level of training.  I had to interview a lot of therapists in the last 7 years for my own practice and I have learned more than I ever wanted to know about area spas.  Many of my prospective therapists worked for some of those places and told me they were basically REQUIRED to do pregnancy massage.  One lady complained that she felt totally awkward because she herself had never had kids.  She could not relate at all to pregnant clients but she had to work on pregnant clients anyway.
When I worked at one particular high-end spa, I would be told 15 minutes before a client arrived that they my client is pregnant and I was given one single pillow to make them comfortable.  At that time, I was not trained in how to deliver a pregnancy massage other than someone saying to me to work on them in a side-lying position.  There was one single pillow kept underneath the massage table in each treatment room for this purpose.  I recall thinking that THIS IS NOT RIGHT.  So many of the therapists I interviewed expressed to me that they were not comfortable at all doing pregnancy massage but they had no choice.  I too – in that setting – had no choice.
I personally resolved to get certified in prenatal massage so that I could competently work on pregnant clients once I opened my own practice.
We Are Set Up To Pamper Prenatal Clients
Our prenatal clients experience all kinds of discomfort and pain and are often uncomfortable on the massage table at first.  It is very important that massage offices and spas who cater to pregnant women have all kinds of bolsters, blankets, pillows, towels, etc. in case the client needs more support in order to feel comfortable during the session.  Having one pillow just does not get it.
Reasons I Chose To Offer Prenatal Massage
Of course, now I am fully trained in and certified as a prenatal massage specialist because I always had a strong interest in it early on.  I have experienced three very different pregnancies and the last one was twins.  I know what it feels like to have stress in your life, have to work full-time and go thru a pregnancy.  I know what it feels like to have one pregnancy go off without a hitch but then the 2nd one there is pain and discomfort galore.  I know what it is like to carry multiple babies and be barely able to walk toward the end of the pregnancy and then swell up like a puffer fish in the last trimester.  I can relate and I have a great compassion for my pregnant clients and a strong desire to pamper them and give them effective pain relief.
For me, I am not just DOING massage on them.  I am helping them and ministering to them the gift of touch that can help them to have a more enjoyable pregnancy.  And, because I am a hot stone massage specialist, I can deliver a level of pain relief and pampering unrivaled with a regular prenatal massage.
Am I saying to never go to a spa?  No.  I am saying that if you are pregnant and need massage you should seek out a different setting with a fully trained and competent therapist.  Your situation is now SPECIALIZED and you need a different setting that can fully accommodate you and make you feel comfortable and give you a safe and deeply therapeutic massage session specially designed for pregnant clients.
To Schedule
To schedule your prenatal massage call or text Donna at 216-640-6851.  We offer day, evening and some weekend appointments.
The following two tabs change content below.
admin
Donna Agrinsonis is a massage therapist, licensed by the Medical Board of Ohio. She is certified in prenatal massage and is a member of the American Pregnancy Association. She has a background working in high-end spas, working with a medical massage company, working with two chiropractic offices, and she headed up the massage services at a local country club for several years. Now she practices out of her office, nestled away in the heart of Beachwood, Ohio.